Kjaer Weis, a remarkable skincare brand, draws its inspiration from the essence of organic ingredients, meticulously selected to create makeup products that offer a non-toxic and rejuvenating allure. Delving into the origins of this exceptional company unveils a captivating tale of a brilliant idea that sparked its creation.
Let us embark on a journey to uncover the fascinating story behind Kjaer Weis, where beauty meets sustainability, and discover the breathtaking vision that birthed this extraordinary venture.
Where did it all began?
About the Founder of Kjaer Weis
From Danish farm life to Parisian makeup school, Kirsten Kjaer Weis globe-trotted, glamming up Vogue, Elle, and Marie Claire. But in the concrete jungle of NYC, she saw skin suffer for synthetic beauty. Natural alternatives lacked oomph! So, she ventured forth, blending her nature-loving roots with beauty know-how, birthing Kjaer Weis – the trailblazing organic luxury.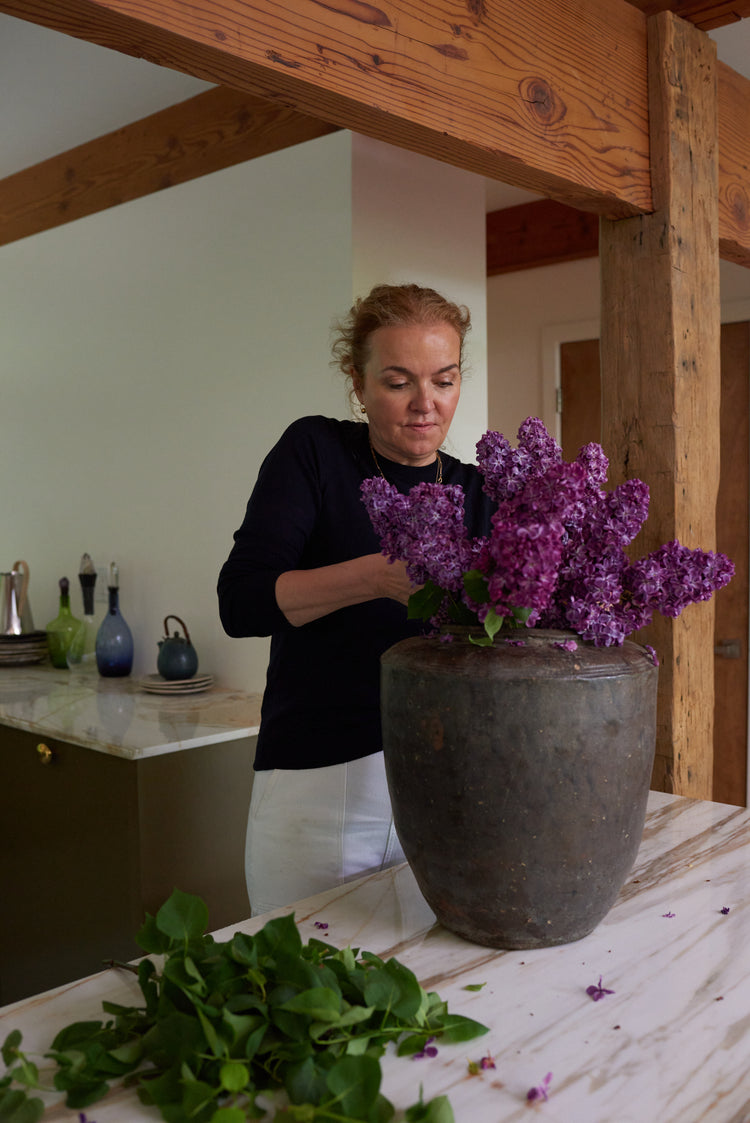 During her upbringing, everything was inspired by organic practices. She yearned to live in the city, but subconsciously was in love with the nature. When she matured and experienced city life, she gradually realized that the farm upbringing had a more profound impact on her than she had ever imagined. She magically knew that natural always outperformed synthetic alternatives.
The Birth of Kjaer Weis
While Kirsten Kjaer Weis was working on daily photoshoots, applying makeup to models for magazines using her favorite brands, she noticed a recurring issue. Models would frequently complain about allergies or skin reactions to certain products, yet they accepted it as the norm.
This realization sparked a desire to fill the gap in the market with organic makeup that offers luxury without compromising on performance. Thus, the idea of Kjaer Weis was born to provide top-notch organic makeup that rivals conventional products in effectiveness and allure.
Newly Launched Product with Customer Review
Cream Bronzer by Kjaer Weis
Inspired by their cream blush, this formula melds with your skin, allowing you to build and customize your desired radiance. Cream Bronzer by Kjaer Weis is Ultra-creamy and hydrating that helps you to achieve sun-kissed luminosity. It is available in four shades bask, riveting, delight and enchant.
Overall, the Kjaer Weis Cream Bronzer is a beloved addition to beauty routines, cherished for its creaminess, blendability, and ability to create a radiant, sun-kissed look.
Users value its skin-like appearance and find it a versatile product to complement other makeup items like cream blushes.
With such positive feedback, it seems that powdered bronzers have met their match with this outstanding cream bronzer from Kjaer Weis.
Bestselling Products of Kjaer Weis with Reviews
Cream Blush
The Kjaer Weis Cream Blush in the shade "Blossoming" has captured the hearts of many customers, including Emma, who admires its subtle yet stunning effect on her cool skin tone. She received compliments about her skin and blush when she sent out Christmas cards, leaving her feeling a bit amused by the attention. Emma finds "Blossoming" to be her go-to blush, and she also keeps "Abundance" in her collection.
Courtney W., a verified buyer with dry skin and fair skin tone, initially hesitated about the blush's light appearance online. However, she was pleasantly surprised to discover that it appears darker in person, providing a fabulous look on her neutral undertone skin. She finds it works well with her oil-based, natural foundation, making it a daily favorite.
Barbara L., with dry skin and a light tone, expresses her love for the blush's color and texture.
Lotta S., a verified buyer with dry skin and a medium tone, raves about the cream blush, describing it as easy to apply and exclaiming her love for its beautiful color.
Overall, the Kjaer Weis Cream Blush in the shade "Blossoming" has received glowing reviews for its beautiful color, ease of application, and texture. Customers with various skin types and tones find it appealing and suitable for daily use. It's an excellent option for those seeking a subtle yet stunning blush that enhances their natural beauty.
Im-Possible Mascara
According to customer reviews this mascara boasts a rich, dark black color that beautifully accentuates your lashes. Its unique bristle brush shape, designed with thinner ends and a slightly thicker middle, makes it effortless to reach even the trickiest corners of your lashes, ensuring a comprehensive application. What sets this mascara apart is its ease of removal – no tugging or leftover residue. Instead, it leaves you with a fresh, natural look, enhancing your lashes with a dark, captivating allure.
But for some users, applying the mascara can lead to smudging on the eyelids and under the eyes, which can be frustrating. Additionally, throughout the day, there have been reports of fallout, causing a potential mess. The formula's slow drying time can also result in smudging and flaking, impacting its longevity on the lashes.
Moreover, some users have found that this mascara falls short in providing significant lengthening or thickening effects. Furthermore, concerns have been raised regarding the quality of the packaging, with the brush lid coming apart for some buyers.
Another issue some users have encountered is that the formula can feel greasy and takes longer to dry, leading to potential smearing and difficulties during application.
The Beautiful Eye Balm
The Kjaer Weis The Beautiful Eye Balm receives mixed reviews. While it impresses with its moisturizing capabilities and premium packaging, some users feel the price doesn't match the overall results. Some find it effective for hydrating and reducing the appearance of wrinkles, but it might not address specific concerns like puffiness or dark circles.
Additionally, its texture resembles more of a salve or lip gloss, which can make it less suitable for some skin types. Despite its premium feel, individuals looking for a more cost-effective solution or specific targeted effects may explore other options.
Is Kjaer Weis Cruelty Free?
The brand is Cruelty- Free, Naturally derived and earth safe. It is also sustainable, over 90% of the products are refillable, reducing waste and promoting a circular economy. Meanwhile, the Red Edition compacts mirror lacquered leather, meticulously hand-crafted from eco-friendly, compostable paper. The company's aim is to minimize landfill waste and reduce carbon footprint.